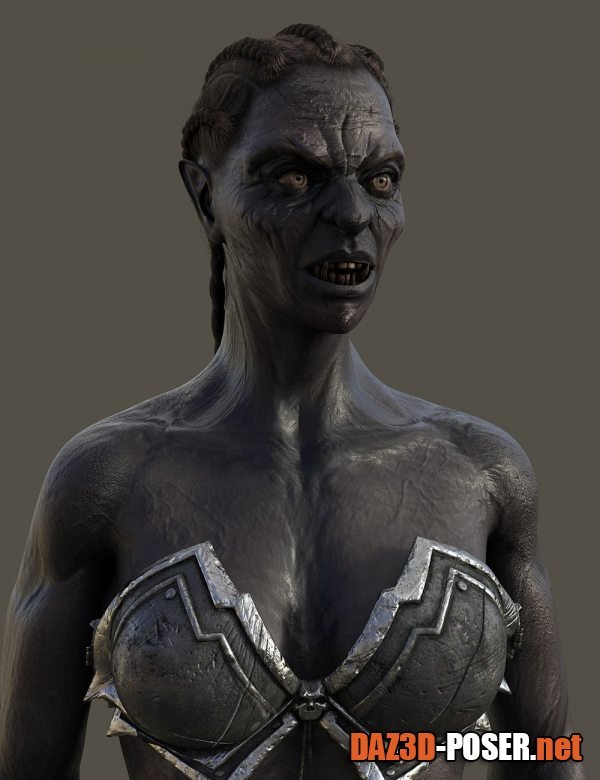 Image: Oz Wolf Feminine HD for Genesis 9
Title: Characters – Oz Wolf Feminine HD for Genesis 9 – download for Daz Studio or Poser
Description:
In the shadowy corners of the Oz forests, a new legend takes shape – the Oz Wolf 9 Feminine HD for Genesis 9. This fearsome, werewolf-inspired character is more than a match for her male counterpart, exuding a deadly grace and fierce beauty that will captivate and terrify in equal measure.

Oz Wolf Feminine HD for Genesis 9 presents a unique design that seamlessly combines humanoid and lupine features. Her piercing eyes and razor-sharp teeth hint at the untamed power within, while the dark, mottled skin adds an otherworldly allure. The arms, torso, legs, fingers, and toes display over-muscle detail, showcasing the raw strength of this enigmatic creature. Her fingers and toenails have evolved into lethal claws, perfect for hunting prey or navigating treacherous terrain.

Crafted with ultra-realistic PBR skin techniques, Oz Wolf Feminine HD for Genesis 9 includes high-definition morphs and high-quality textures that will breathe life into this character for your renders. The set features two skin material options, allowing you to choose the ideal look for your scene.

Oz Wolf 9 Feminine HD for Genesis 9 also offers the ability to morph each body part individually. Transform a single arm with the separate arm/hand morph, or apply individual morphs for each leg, the torso, and the head. This level of customization opens up a world of possibilities, enabling you to create a wide array of unique and mesmerizing scenes.

Embrace the untamed power and beauty of the Oz Wolf 9 Feminine HD in your next project, and captivate your audience with the haunting elegance of this unforgettable character.

Home Page: _https://www.daz3d.com/oz-wolf-feminine-hd-for-genesis-9