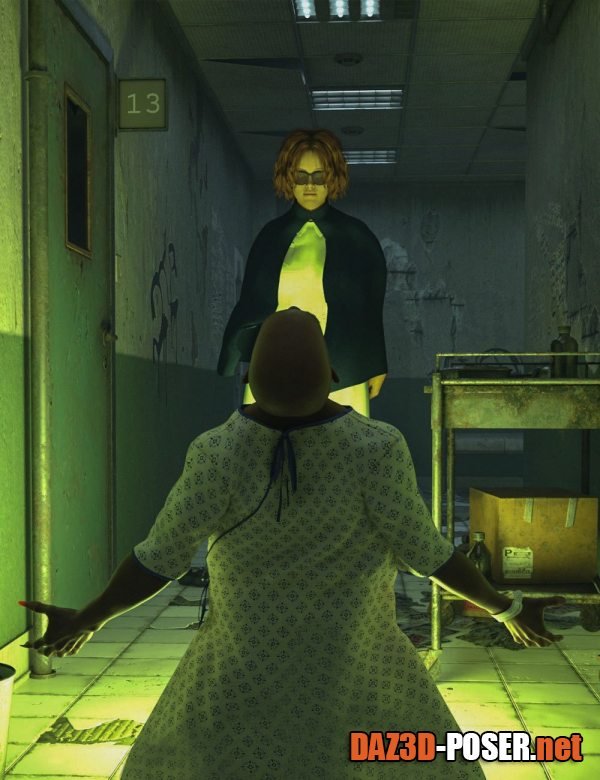 Image: Oz Wolf HD Poses
Title: Poses – Oz Wolf HD Poses – download for Daz Studio or Poser
Description:
Breathe life into your Oz Wolf character with "Oz Wolf HD Poses." Specifically tailored for Genesis 8 Male, Genesis 8.1 Male, and Genesis 9, this set is designed to capture the raw emotion, ferocity, and haunting beauty of the werewolf legend.

The Oz Wolf HD Poses set includes 20 dynamic and captivating poses that cover a range of emotions and actions. Watch as your Oz Wolf character kneels and cries out in torment, flails his arms in an uncontrollable frenzy, interacts thoughtfully with a wheelchair or an IV pole, or shows his dominance and anger while pointing accusingly.

Bring an eerie sense of realism to your scenes with poses that showcase your character interacting with iconic gothic props, like a wooden coffin and its lid. Make your audience shudder as they watch your Oz Wolf character slashing the air with his sharp, clawed fingernails, or kneeling exhausted after a fierce fight.

The set also includes poses that display the sheer power and agility of the Oz Wolf, such as leaping in attack, a visual representation of the explosive ferocity within. Each pose has been carefully crafted to convey the highest level of detail and realism, allowing you to create breathtakingly dramatic scenes with ease.

Unleash the full storytelling potential of your Oz Wolf character with the Oz Wolf HD Poses. From moments of quiet despair to explosive bursts of anger and action, this set allows you to bring your wildest ideas to life, creating unforgettable scenes that will captivate your audience and take your project to the next level.

Note: Some of these poses are designed to work with props from the "Bad Judgement Cemetery Wild West Graveyard" and the "Hospital Props" products, but do not require them.

Home Page: _https://www.daz3d.com/oz-wolf-hd-poses