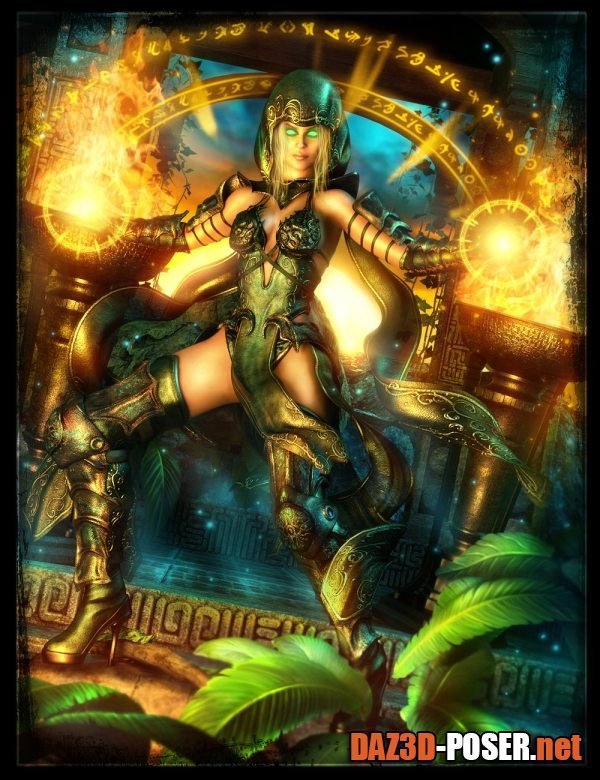 Image: dForce Hex Arcanum Outfit for Genesis 8 Female and Genesis 9
Title: Clothing – dForce Hex Arcanum Outfit for Genesis 8 Female and Genesis 9 – download for Daz Studio or Poser
Description:
Hex Arcanum is no ordinary outfit. For it is borne of magic... not only in its style but also its versatility. Many of you are familiar with the Genesis 3 Female version. This full native conversion will now let you use it for Genesis 8 and Genesis 8.1 Females and also Genesis 9!

But this is more than merely a conversion. It has had a significant update to its functionality and aesthetics, and even includes 4 full new texture sets that are exclusive to this set only. It is also now dForce compliant!

Developed to be more than just a mage wearing dragon armor, this is the ultimate clothing kitbashing set. There are actually several ways this outfit can be worn, making not just one outfit, but 5 straight out of the box. You can have anywhere from a fully armored mage to a high priestess, barbarian warrior, night ranger, dragon rider, and more. You aren't limited to just those, as off mats will allow you to change the style even more! All pieces load separately, so you only load what you need. Further, style morphs have been included as well, as well as special fit to Genesis morphs so the cloth underneath the armor can be properly omitted and still fit great.

The original set had wearable preset styles (barbarian warrior, dragon rider, night ranger, and high priestess) that allowed you to change the style... but they were limited and only worked with one texture set. I've developed these to be hierarchical mats now, so they will work with any texture set included, and will even dial in morphs you need, for ultimate versatility and ease of use. There is also a reset option that will reset the outfit to default, to make it even easier to kitbash.

As for materials, this set is loaded to the hilt! It has 8 full sets of materials now, in different colors. The original set had Drakon, Firedrake, Hydra, and Wyvern. The new textures are Amphitere, Leviathan, Nidhoggr, and Tianlong (named after diff dragons of mythology). In addition, it also has three modes for each set: Imperial, which is a shiny plate option, Revenant, which is a war-worn plate option and finally Sentinel, which features plates with colorful patina.
Home Page: _https://www.daz3d.com/dforce-hex-arcanum-outfit-for-genesis-8-female-and-genesis-9