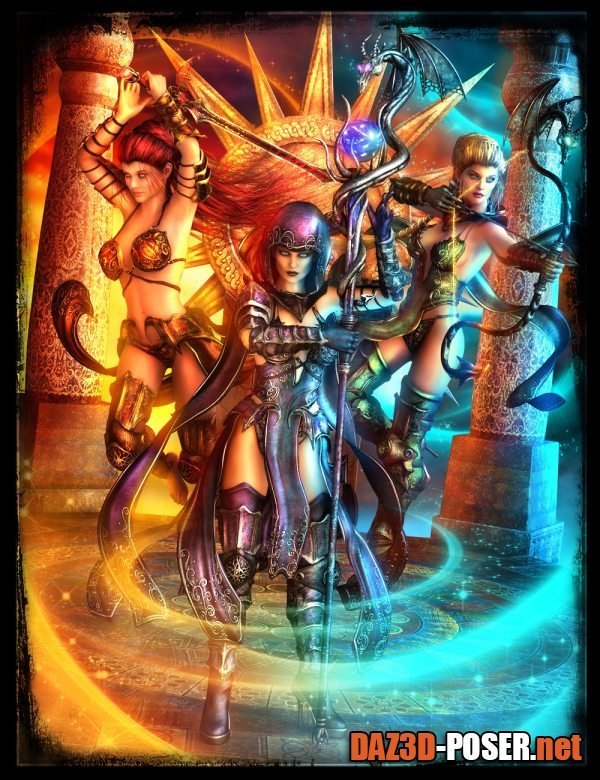 Image: Hex Arcanum Arsenal for Genesis 8 Female and Genesis 9
Title: Clothing – Hex Arcanum Arsenal for Genesis 8 Female and Genesis 9 – download for Daz Studio or Poser
Description:
Hex Arcanum was built for versatility, able to become a range of different outfits and themes rolled into one set. But with each viable option, it needed more. It needed... WEAPONS. And not just one weapon would do. It needed an ARSENAL!

Like the outfit, this too got an upgrade and native Genesis 8, Genesis 8.1, and Genesis 9 support. Because there were fewer things to improve on, it got two entirely new weapons, 10 new poses for each of those two new weapons respectively, as well as 4 extra new materials and 3 modes to work with.

The Hex Arcanum Arsenal was a set containing 3 weapons… but this one contains 5 weapons: A dragon bow and arrow, a dragon sword, and a dragon scepter for the mage (which were the original weapons). The new weapons included are a short glaive that is a dual-wielded weapon and a two-handed long glaive that's wielded much like a polearm. To tie into the dragon armor theme, all the weapons feature a dragon worked into the weapon's design.

Each weapon is additionally textured to match the outfit's materials in Hex Arcanum, giving you a range of color-matching options. There are 8 material options in all, as well as three modes: imperial, revenant, and sentinel, which will give you shiny, worn, and patina metals. The crystals and eyes of the dragons glow, as they are set up with emission in Iray. In addition, there is now a glowing dragon script on the sword and the glaives have glowing tribal markings on the shiny and worn options (these are plain metal on the patina version) A special bloom option is also included for Iray, to really make it glow.
Home Page: _https://www.daz3d.com/hex-arcanum-arsenal-for-genesis-8-female-and-genesis-9