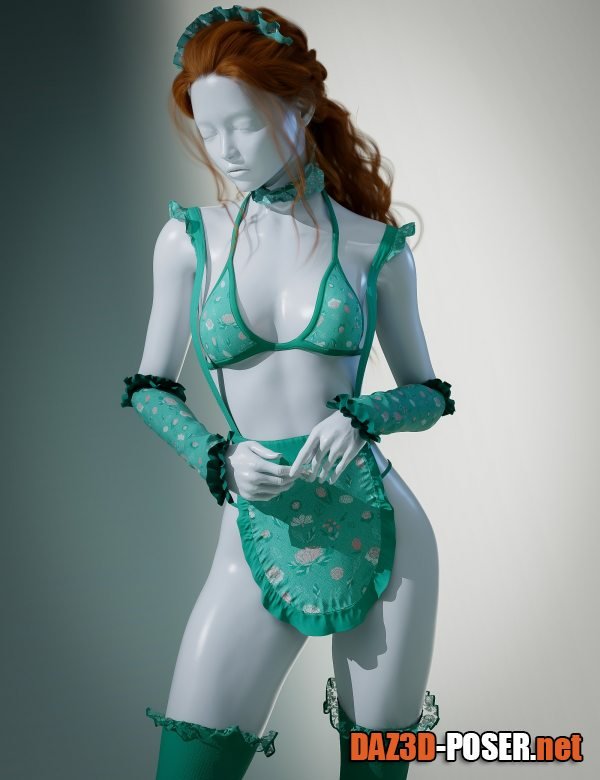 Image: dForce Maid Bikini Outfit for Genesis 9
Title: Clothing – dForce Maid Bikini Outfit for Genesis 9 – download for Daz Studio or Poser
Description:
Introducing the stunning and alluring dForce Maid Bikini Outfit for Genesis 9! This meticulously crafted 3D product is designed to elevate your Daz Studio scenes to new heights of elegance and sensuality. Whether you're working on a fashion project, a fantasy-themed artwork, or simply want to add some flair to your virtual world, this outfit is sure to captivate your audience.

The dForce Maid Bikini Outfit offers a comprehensive ensemble that includes an Apron, Headwear, Handwear, Panty, Bra, Neckband, and Stockings with 5 textures options. Each component of the outfit has been meticulously designed with attention to detail, ensuring a perfect fit for the Genesis 9 figures.

The Apron is the centerpiece of this outfit, exuding a blend of innocence and allure. Its flirty frills and intricate lace trim add a touch of sophistication, while the adjustable straps ensure a comfortable and customizable fit. The Headwear features a delightful combination of ribbons and bows, accentuating the overall maid theme and adding a playful charm to your character.

The Handwear consists of delicate gloves that reach just above the wrist, showcasing intricate lace patterns and enhancing the elegance of your Genesis 9 figure. The Panty and Bra set is designed with a perfect balance of seduction and comfort.

To complete the ensemble, the Neckband adds a touch of refinement, while the Stockings exude an air of elegance and playfulness.

With its versatility and attention to detail, the dForce Maid Bikini Outfit for Genesis 9 is an essential addition to your Daz Studio library.
Home Page: _https://www.daz3d.com/dforce-maid-bikini-outfit-for-genesis-9