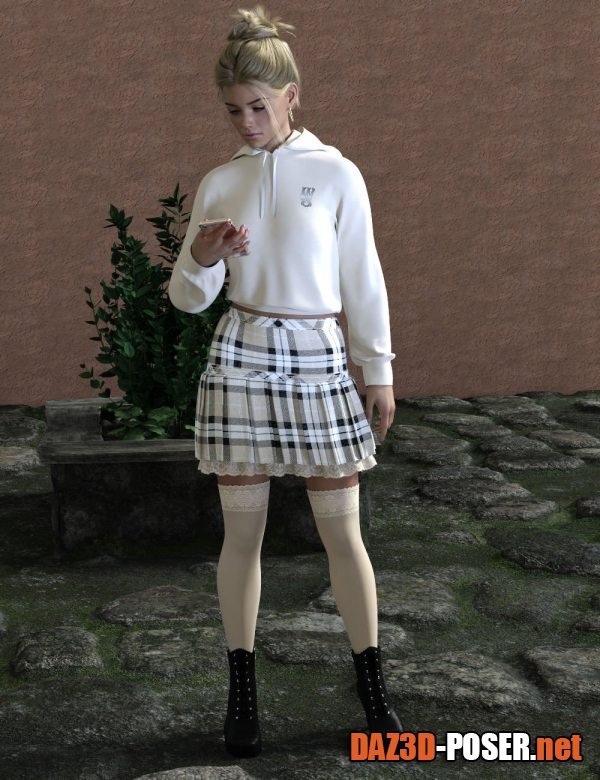 Image: dForce Emma Casual Wear for Genesis 9
Title: Clothing – dForce Emma Casual Wear for Genesis 9 – download for Daz Studio or Poser
Description:
Emma Casual Wear is a comfortable style for today's modern woman or girl. This pack comes with a hoodie, pleated skirt, over-the-ankle boots, panty, and stockings. The panty and stockings are geoshells so they will move naturally with your Genesis 9 character. Also included is a Morphing Cap to control hair shape when the hood is up. Load your hair to the morphing cap and apply the included morphs, along with the hoodie morphs, to fit the hair to the hood. There are 7 textures for the hoodie and boots, 8 textures for the skirt, 6 textures for the panty, and 5 textures for the stockings.

The hoodie comes with a great many morphs for the "hoodie" part. We start off with adjustment morphs that can be applied to the Hood and to the Hoodie body. These can be used after simulation. We also created 28 "Styles" for the hood, from the hood resting on her back, to the hood flopped over her face and hiding it. The first 5 Hoodie styles are off the head and lay "flat against the back" with the default dForce. Included in the pack are wearables for these first 5 morphs and all have custom dForce weight mapping per each style for a more realistic look! Load these 5 wearables onto your character instead of the default hoodie. With the default Hoodie, the other 23 hoodie morphs should be applied at Frame 0 and then simulated. If adjustments are needed after the fact, then you can use any of the "Hoodie" adjustments. Last but not least, we also have included some morphs for the laces.

The skirt includes a number of adjust morphs to be used after simulation. You can use any adjustment morphs before as well if you see fit. There is also a morph for the ruffles under the box pleats to make the ruffles a tad bit longer for sitting poses, and that morph is best applied before simulation at Frame 0.
Home Page: _https://www.daz3d.com/dforce-emma-casual-wear-for-genesis-9