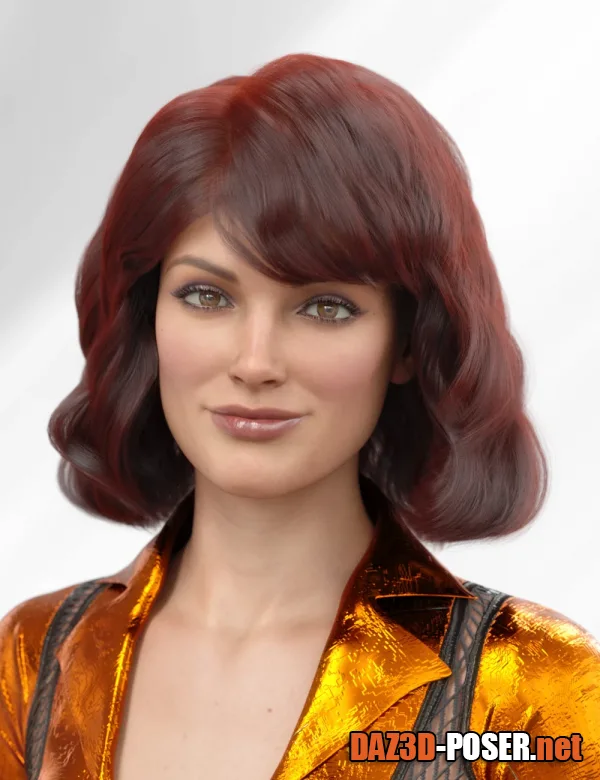 Image: dForce Mayfair Hair for Genesis 8 and 8.1 Females
Title: Hair – dForce Mayfair Hair for Genesis 8 and 8.1 Females – download for Daz Studio or Poser
Description:
dForce Mayfair Hair for Genesis 8 and 8.1 Females is a stylish medium-length style with a natural wave, best suited for big and bold looks with a touch of glamor! It uses Daz's dForce hair to give a highly-realistic, dynamic, and drapable hairstyle with every hair individually rendered to give amazing realism.

It comes with a range of 10 preset styles, including waves and curls, different lengths, and fringe morphs. There are also options for clumping and strays to mimic those loose strands of hair to enhance realism. The usability is enhanced by presets for different preview modes.

There are 34 realistic and fantasy hair colors, and as a bonus, I have included a further 25 gradient presets so you can go wild with all the different hair color effects! There are also a choice of hair shines that can be matched to your scene and lighting.

It is possible to use Mayfair Hair without draping, but usually you will want to simulate the hair, and there are 3 alternative dynamic responses to get the exact results you want. There are also wind-blown morphs to add that final dynamic touch to your scene. By applying styles either before or after draping and fine-tuning with the parameter dials, you can achieve a large number of looks.

Suitable for contemporary, sci-fi, and fantasy characters in any setting, dForce Mayfair Hair is the perfect way to add realism and glamor to your characters.
Home Page: _https://www.daz3d.com/dforce-mayfair-hair-for-genesis-8-and-81-females