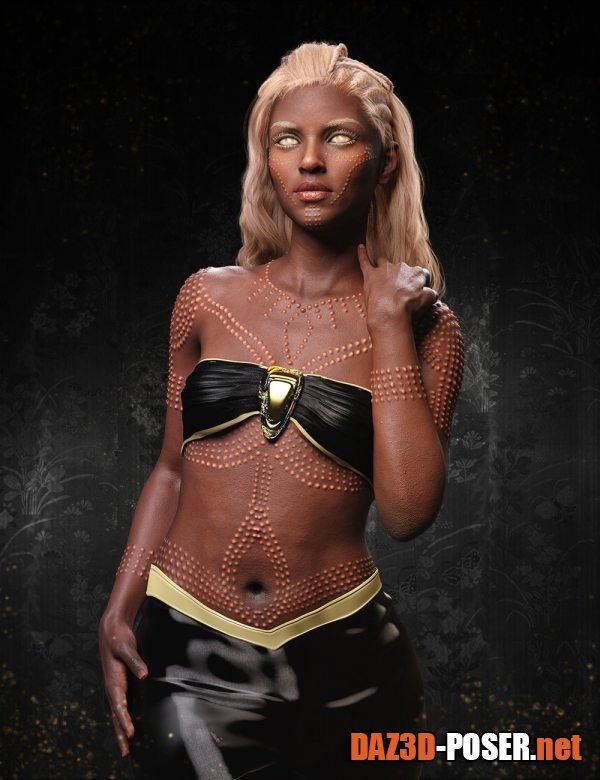 Image: HD Scarification for Genesis 8 and 8.1 Females
Title: Other – HD Scarification for Genesis 8 and 8.1 Females – download for Daz Studio or Poser
Description:
HD Scarification for Genesis 8 and 8.1 Females is a set of decorative keloid scars for your female characters. Whether your character decided to mark her skin by choice, fashion, or custom, it's up to you!

The pack consists of 39 Face and Body HD Morphs, 50 Shaping Presets, and 70 LIE Mask Presets. The product works with both Genesis 8 and 8.1* Females.

For your convenience, we created presets with pre-assembled combinations so you can quickly apply both the HD morphs and the LIE quickly. As the promos show, if you feel the scars are too subtle, you can apply the LIE preset a second or even third time to intensify the effect.

*Important: Since the scars are applied via LIE, Genesis 8.1 characters using Genesis 8 (UVs) skins are not accounted for. The workaround for those cases would be to load a Genesis 8 character with the skin of your choice first, apply the LIE combination, then save the resulting materials so you can then apply it to your Genesis 8.1 character.

Notes:

This product supports both PBR and Iray Uber Skins.

Unless otherwise specified, none of our products should be used as merchant resource.

Home Page: _https://www.daz3d.com/hd-scarification-for-genesis-8-and-81-females