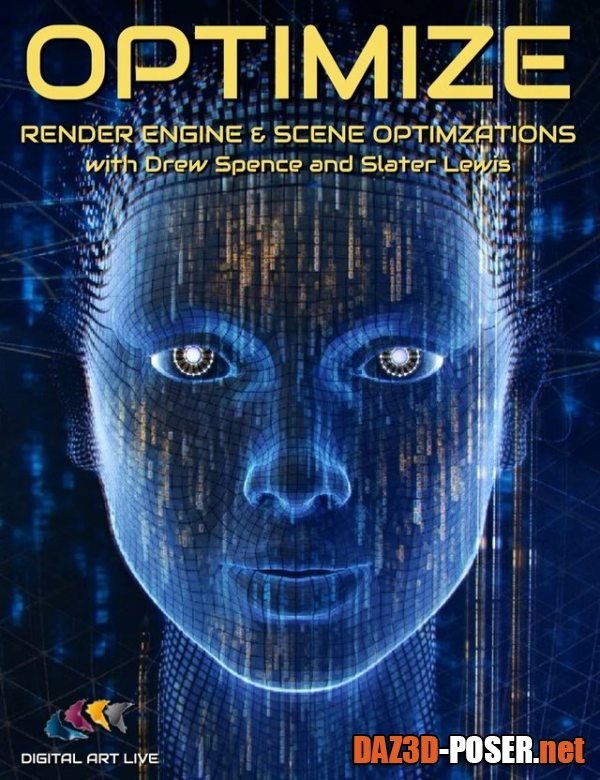 Image: OPTIMIZE: Render Engine and Scene Optimizations Tutorial
Title: Other – OPTIMIZE: Render Engine and Scene Optimizations Tutorial – download for Daz Studio or Poser
Home Page: _https://www.daz3d.com/optimize-render-engine-and-scene-optimizations-tutorial
Description:
If you are running DAZ Studio on an older machine or one that doesn't have many resources (CPU processor speed, RAM, and graphics card memory), then it becomes crucial to learn how to quicken your render times!

Two approaches to this problem are to optimize your render settings and be efficient with setting up your 3D scene in the first place.

This 2-hour tutorial has two artists discuss both of these approaches. Slater Lewis (Tugpsx) and Drew Spence (Griffin Avid).

Various render engines are examined by Slater including iRay, 3Delight, Reality, and Octane. Slater has been heavily involved with render engine beta testing in the past, so he has a good understanding of what works for render settings. He includes a PDF document of tips and tricks for Iray. The irony is that Slater uses quite an old machine for his DAZ Studio artwork (8 years old), so he is motivated to find optimizations for his own work!

Drew Spence talks about the question "Should art be limited by hardware?" and addresses how we can get around those confinements with several direct tips, as well as recommended DAZ Store products. Drew uses a variety of these suggested products on a mass basis for his graphic novel "Force 6 Annihilators", where he creates hundreds of scenes to render for the artwork.
Download links: