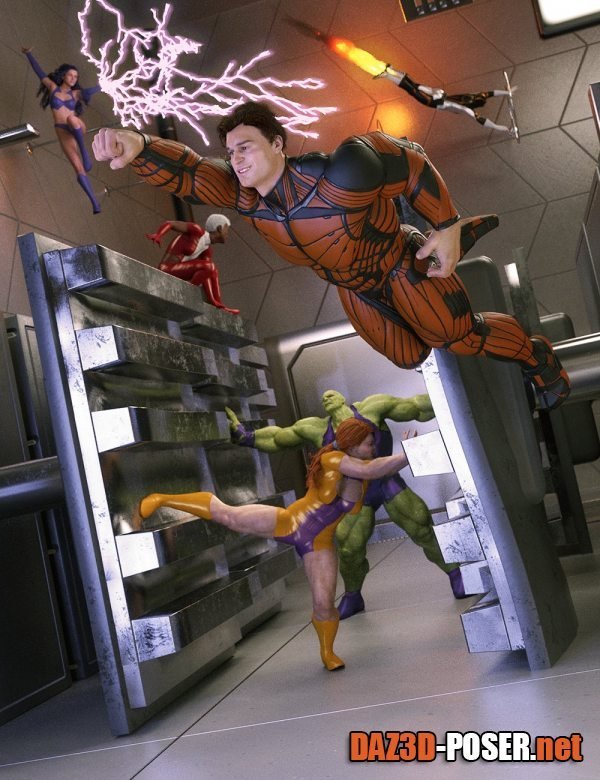 Image: Hero-in-Training Genesis 8 Poses: Aces
Title: Poses – Hero-in-Training Genesis 8 Poses: Aces – download for Daz Studio or Poser
Description:
Whether you're just beginning or if you've been at it for a while, it's important to practice — that goes for Superheroes too! Give your 3D super-powered Genesis 8 characters the opportunity to stretch their legs, test their limits, and push their boundaries. 

The Hero-in-Training Genesis 8 Poses: Aces set for Genesis 8 covers all those amazing feats, including power punches, bravado poses for the paparazzi, flying obstacle courses, power blasting, and running at breakneck speeds. These digital hand-crafted poses will give your superhero the style and panache of someone who's at the top of their game fighting the bad guys.

The poses in this set were designed to work with the Silent Winter's Superhero Training Room, but also included are pose presets and their mirrors so that you can take the action wherever you want, whether that's in another location in the Superhero Training Room or in another environment altogether. 

And because superheroes come in many different sizes and shapes, this set includes a collection of pose presets not only for the Genesis 8/8.1 Male and Female base figures, but there are also presets tailored for Victoria 8, Freya 8, Kayo 8, Raw Jemma HD, Raw Biggun 1 & 2 HD, Michael 8, and the Brute 8.

Note: Owen 8 works great with the base Genesis 8 Male presets with little to no adjustments, so if you want a scrawnier figure with some muscles, he's a perfect choice to work with.

Home Page: _https://www.daz3d.com/hero-in-training-genesis-8-poses-aces