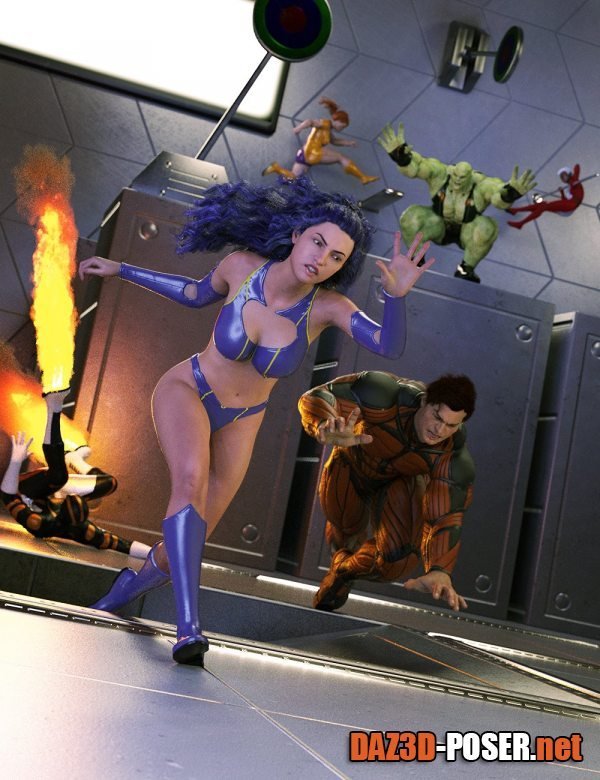 Image: Hero-in-Training Genesis 8 Poses: Amateurs
Title: Poses – Hero-in-Training Genesis 8 Poses: Amateurs – download for Daz Studio or Poser
Description:
Whether you're just beginning or if you've been at it for a while, it's important to practice — that goes for Superheroes too! Give your 3D super-powered Genesis 8 characters the opportunity to stretch their legs, test their limits, push their boundaries.

The Hero-in-Training Genesis 8 Poses: Amateurs set for Genesis 8 covers the blunders a newbie crime fighter would stumble upon — or conversely, what might happen at practice when your hero is having a really bad day. There are exercises to do including stomach crunches, running laps, tripping over one's feet, falling, and awkward leaps across impossible distances. There are obstacles for your hero to fall over, only to rise again greater.

The poses in this set were designed to work with the Silent Winter's Superhero Training Room, but also included are pose presets and their mirrors so you can take the action wherever you want, whether that's in another location in the Superhero Training Room or in another environment altogether.

And because superheroes come in many different sizes and shapes, this set includes a collection of pose presets not only for the Genesis 8/8.1 Male and Female base figures, but there are also presets tailored for Victoria 8, Freya 8, Kayo 8, Raw Jemma HD, Raw Biggun 1 & 2 HD, Michael 8, and the Brute 8.
Home Page: _https://www.daz3d.com/hero-in-training-genesis-8-poses-amateurs