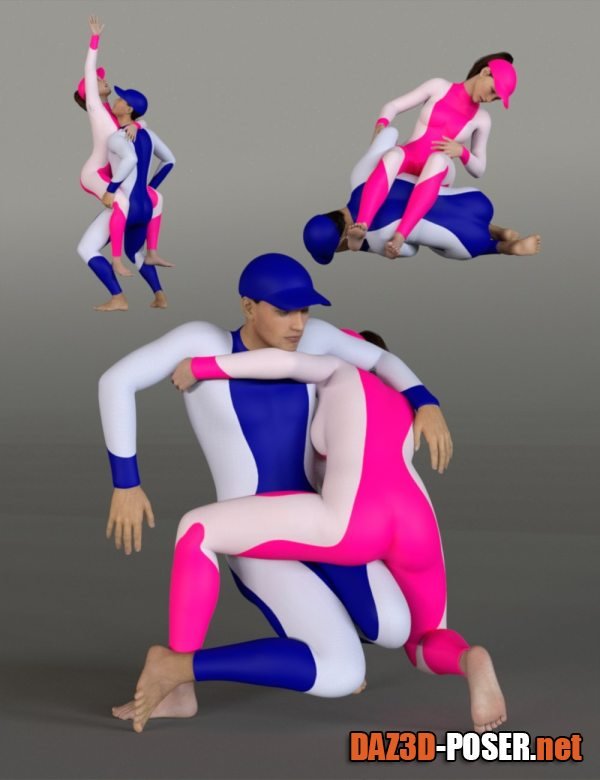 Image: Tight Interaction Poses Volume 4 for Genesis 8 and 8.1
Title: Poses – Tight Interaction Poses Volume 4 for Genesis 8 and 8.1 – download for Daz Studio or Poser
Description:
Tight Interaction Poses Volume 3 for Genesis 8 and 8.1 is a set of quality pose pairs featuring a male and a female figure closely interacting in a variety of ways, for a total of 24 individual full-body poses (12 pose pairs) plus their mirror versions and facial expressions.

The set comes with scripts to pose the two figures at once and to optionally group them to make editing easier. Expressions can be optionally ignored to leave any existing figure's face unaltered. The scripts also allow you to ignore (leave unaltered) the lower or upper part of the figures.

Because the scripts adjust scaling to ensure the two figures fit to each other as intended, using a male figure in place of a female figure (and vice-versa) is relatively easy, with just minor adjustments needed in most cases, to achieve same-gender interactions.

After installation, the poses will be available in the People/Genesis 8/Poses/ATGL folder. Pose icons include their .tip image (bigger and shown when the mouse is held over the standard pose icon).

Minimize the time you spend posing, maximize productivity by growing your collection of pose pairs with this new quality set!

Home Page: _https://www.daz3d.com/tight-interaction-poses-volume-4-for-genesis-8-and-81