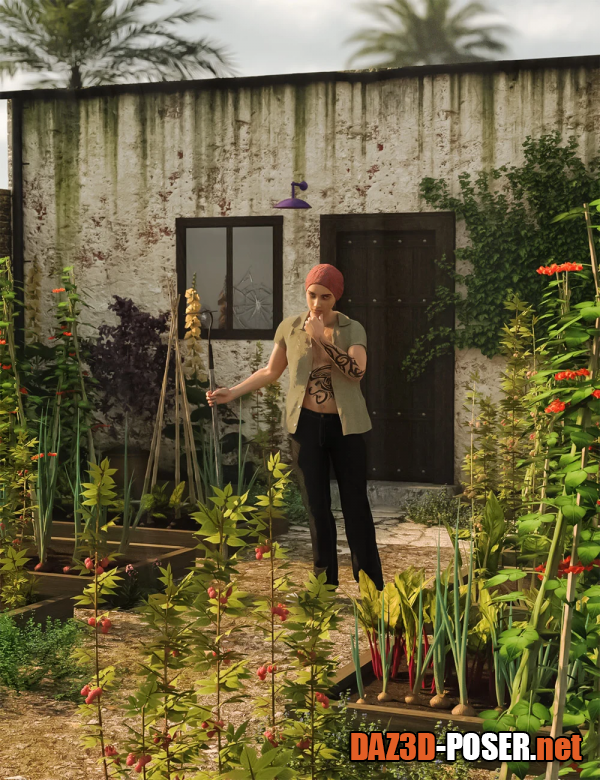 Image: Vegetable Plot – Veg Plants and Raised Beds for Iray
Title: Props – Vegetable Plot – Veg Plants and Raised Beds for Iray – download for Daz Studio or Poser
Description:
Over 60 vegetable plants, beds, and supports make this a huge bundle of veggie goodness!

Runner beans (flowering and fruiting), beets, colorful Swiss chard, aromatic red and white onion plants, and jewel-like raspberry canes give you the color and variation of form and texture that really brings your scene to life. Whether it's a super modern garden, a balcony with a few pots of vegetables, or the perfect digital cottage garden, this great big bundle of produce will have something to do the trick!

The raised beds come as a single layer, but if you want to vary the height, there is no reason why they can't be placed one on top of each other (unplanted ones at the bottom and planted ones at the top). They come in 2 frame colors for the unplanted bed and a selection of pre-planted beds that will give you an instant vegetable garden. The veg plants come in a selection of colors and states for flower/fruit as appropriate. You can change the color of your chard or onions using the included material presets (also the wood color of the beds). The beds are designed to use procedural materials, and you could use pretty much anything you want on the edge sections as long as you adjust the tiling ratio to work with the particular shaders you are using.
Home Page: LINK