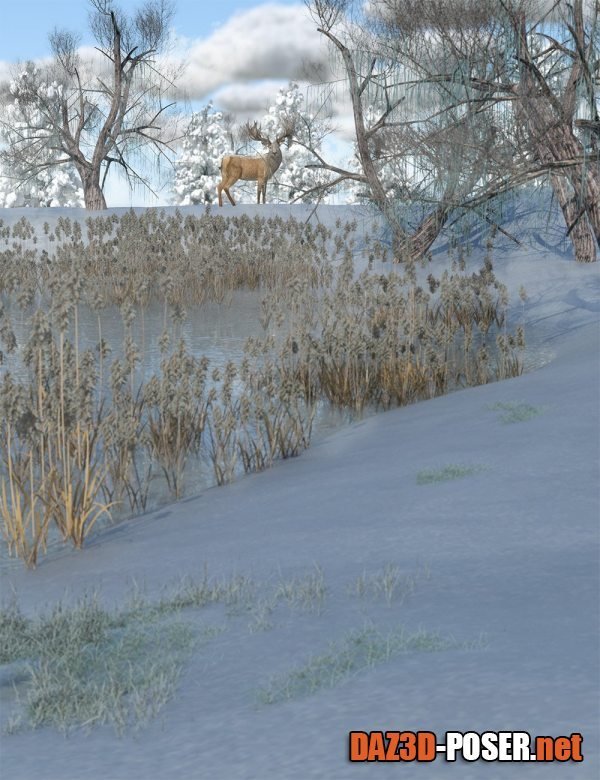 Image: Frosty Plants – Low Res Winter Plants
Title: Props – Frosty Plants – Low Res Winter Plants – download for Daz Studio or Poser
Description:
Get the coolest plants right here! Frosty Plants - Low Res Winter Plants for Daz Studio is a great big bundle of over 20 low res plants, trees and grasses which blends perfectly with my other plant bundles with the addition of frost and ice for those winter-y renders!

Backed up by lots of alternative material and shader pre-sets, this cool bundle is ready to chill with all sorts of other trees and plants in your scenes. Want to blend textures with existing plants? Choose a shader for stems or bark. Want to turn a plant or tree to ice? There are shaders there for that too, one with a bluish tinge and one clear.

The models in this bundle will work in instancing and can there for be used en masse with out killing your computer! As always, a little goes a long way and variations of scale and y rotation values will make one plant or clump look different with every instance! All of the plants included can have their materials swapped around with the included material presets, so if you have the perfect plant and perfect placement but don't like the color, there's no need to load and place a new plant, just swap out the materials using the presets provided!
Home Page: _https://www.daz3d.com/frosty-plants--low-res-winter-plants