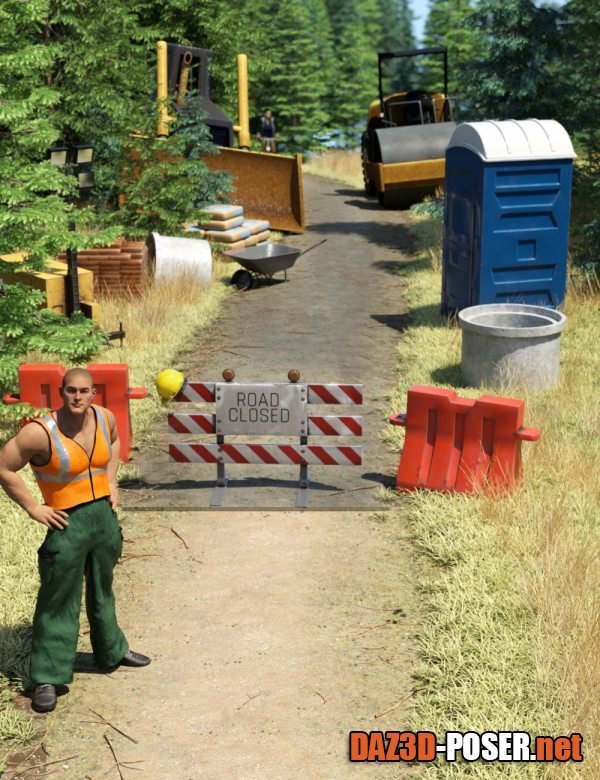 Image: UltraScenery Road Works – Road and Path Materials for Ultrascenery Terrains
Title: Props – UltraScenery Road Works – Road and Path Materials for Ultrascenery Terrains – download for Daz Studio or Poser
Description:
Ever thought it would be nice to change the road surfaces in your Ultrascenery scene? Well, now you can with UltraScenery Road Works - Road and Path Materials for Ultrascenery Terrains!

Just a couple of clicks and that sandy road can be transformed into broken cobbles, shattered paving, pavers, tarmac, dark dirt, gritty sand, or even a yellow brick road!

Not only that, but you can choose what type of edging your road or path has, from muddy, sandy, or mossy road edges (where appropriate for the main material) to blend the road edges seamlessly into the existing Ultrascenery terrain materials.

And all this is done with a few clicks of the mouse. Select your Ultrascnery terrain (open up the Ultrascenery object in the scene tab and click on the Ultrascenery terrain — nothing else — to select it), and apply your new materials. Remember, if you regenerate the terrain, you'll have to re-apply the road or path textures, and these materials will only apply to terrains with roads or paths in them.
Home Page: _https://www.daz3d.com/ultrascenery-road-works--road-and-path-materials-for-ultrascenery-terrains