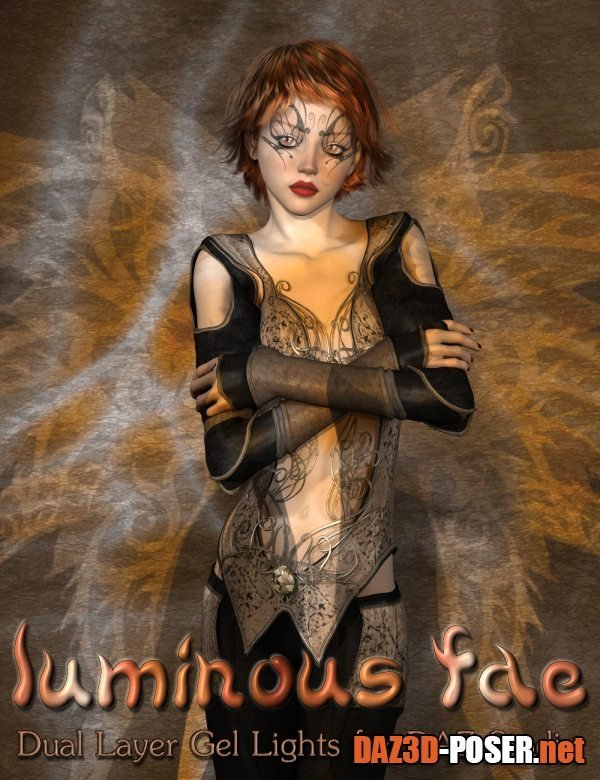 Image: IDG Luminous Fae - Dual Layer Gel Lights for DS
Title: Props – IDG Luminous Fae - Dual Layer Gel Lights for DS – download for Daz Studio or Poser
Home Page: _https://www.daz3d.com/idg-luminous-fae-dual-layer-gel-lights-for-ds
Description:
The Urban Fae lives on the fringes of the modern world. Part a creature of nature, part a scavenger of castoffs of today's unsuspecting humans. They exist in the shadows, at the edge of consciousness.

InaneGlory created a dual layer area gel light using the Ubersurface area gel light shader. It features a gel light image (colors) and a mask image (black/white). You can interchange the gels or mask without effecting any other part of the light like placement and intensity settings. The effect is soft and diffused, excellent for portraits.

DestinysGarden created a dual layer spot gel light made in shader mixer. It also has interchangeable gels and masks that do not alter the light in any other way. The effect is sharp and dramatic to give a grungy, edgy look to your renders.

Both lights are included in the package, along with presets to change the gels and masks, and 6 pre built light set ups with white fill lights for each type of light.

How it works: First choose either the Area Light for soft and subtle, or Spot Light for bold and dramatic. You can start with the solo lights or one of the premade light sets for either one. Next, pick a gel light to give overall color. Options range from vivid patterns to muted gradients. Finally, add variety by picking a mask layer to add textures or patterns to the existing gel. Mix and match for tons of possibilities.

Download links: