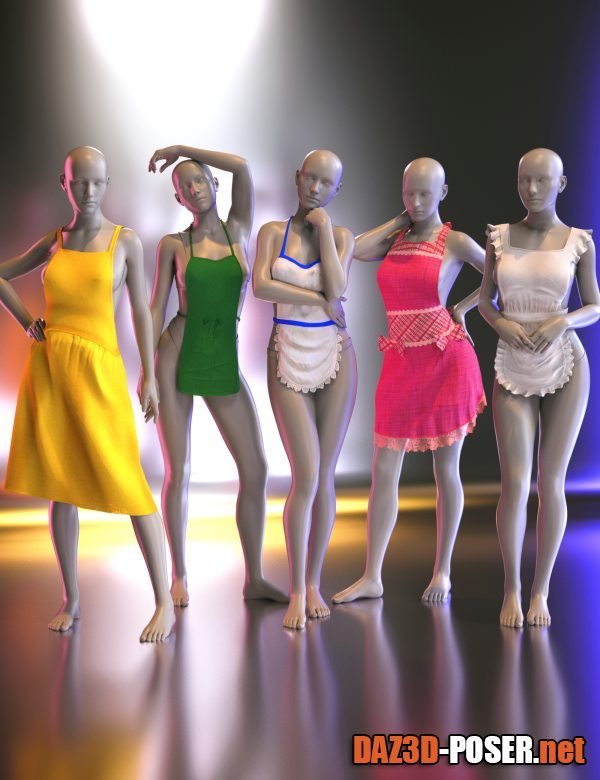 Image: dForce Aprons Mega Pack for Genesis 8 and 8.1 Females
Title: Clothing – dForce Aprons Mega Pack for Genesis 8 and 8.1 Females – download for Daz Studio or Poser
Home Page: _https://www.daz3d.com/dforce-aprons-mega-pack-for-genesis-8-and-81-females
Description:
The dForce Aprons Mega Pack for Genesis 8 and 8.1 Females is comprised of 5 separate apron sets. Each apron has its own distinct design and is created while keeping in mind the different everyday activities in a Genesis 8 model's life. These 5 aprons are:

Tidy Apron: an open-back apron with ties, best used by your models during light cleaning and cooking tasks
Meido Apron: inspired by the aprons worn by the waitresses in the unique Akihabara Maid Cafes, good to use for all maid activities
Barista Apron: one that has a very typical look, which can make your models shine in a cafe, restaurant, or sales-based scene.
Cafe Apron: a frilly, open-back design with bows and ties, good to use for most activities
Gardening Apron: one that provides a good deal of coverage to your model's legs and torso, for those scenes where your models might not want to get their clothes dirty

Each apron comes with an assortment of alternative materials and several shaping and fitting options, which can provide a good number of variations when they are dForce simulated with different poses.