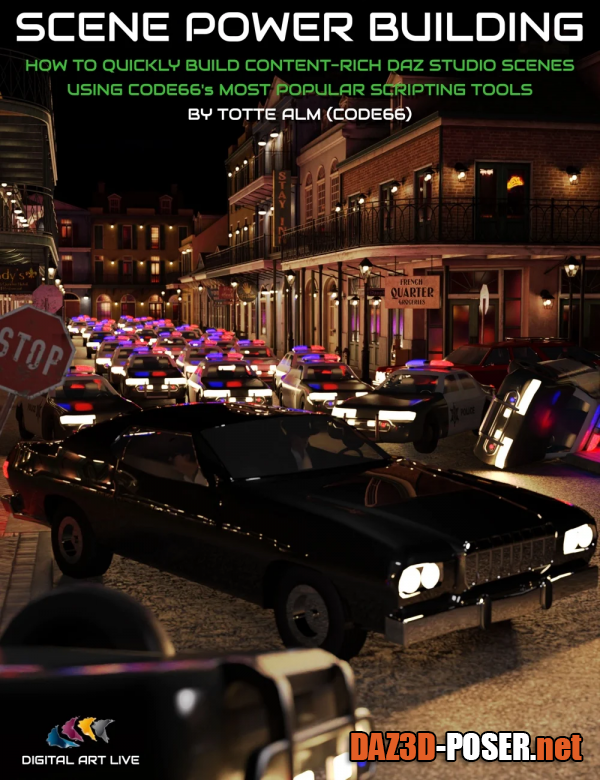 Image: Scene Power Building: How to Quickly Build Content-Rich Daz Studio Scenes
Title: Other – Scene Power Building: How to Quickly Build Content-Rich Daz Studio Scenes – download for Daz Studio or Poser
Description:
If you are choosing and setting up dozens of similar models to fill a scene, it can be slow work. Imagine if you could quickly prototype scenes with random models and you could control the probability of how each model would be used!

Totte Alm (Code66) regularly produces super useful scripts for Daz Studio.

He has built two scripting tools that can do all the heavy lifting of creating these kinds of scenes: Traffic Patterns Script (includes a prop collection) and FlockIt. Both can be used for populating your sets quickly, but there are important steps to take with the scene setup when using these scripts. It s good to know that Traffic Patterns can be used for any kind of population, not just vehicles. Since FlockIt uses instances, it can generate complex, almost particle-like object groups for scenes.

In this tutorial, Code66 shows you scene setups in utilizing these scripts and the best ways to use each of them.

He shows multiple scene set-up ideas that will open up your imagination for using these utilities. Totte also looks at some of his related script products that can quickly populate props in a scene, such as Crate Factory and Stack Em.
Home Page: _https://www.daz3d.com/scene-power-building-how-to-quickly-build-content-rich-daz-studio-scenes