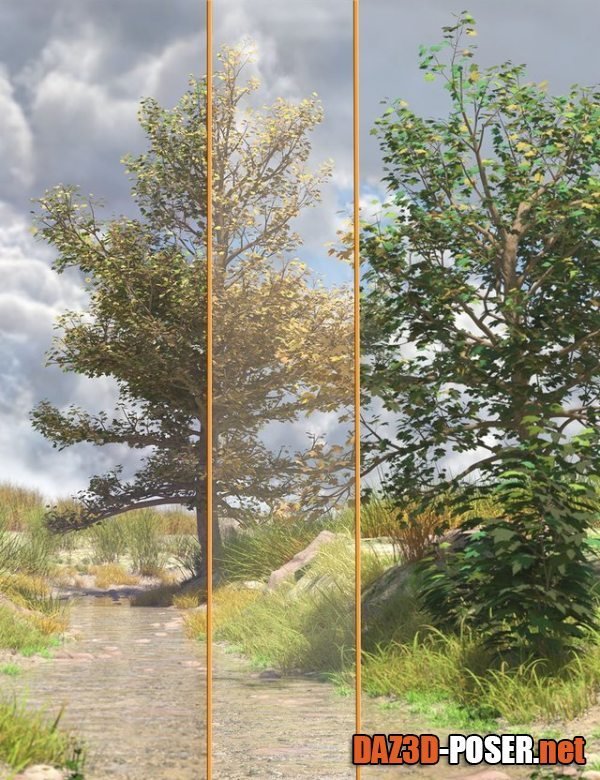 Image: The Greenwood Vol 1 Sycamore Trees
Title: Props – The Greenwood Vol 1 Sycamore Trees – download for Daz Studio or Poser
Home Page: _https://www.daz3d.com/the-greenwood-vol-1-sycamore-trees
Description:
Perfect as hero trees or shrubs in many renders, the Sycamore is an Iconic tree of legend ( or a completely annoying weed if your a gardener) but in either case this great set of models and five scene subsets using them en-mass as instances gives you realistic nature in just a few mouse clicks!

These medium resolution models work great in instancing as well as for individual placement, and come with a great selection of different material presets (which can be applied to any model once loaded or the base models in groups of instances). The materials take you from spring through summer, late summer, fall and winter with some nice foliage variation backed up by the awesome power of Iray surfaces back lighting and displacement mapping to insure realistic effects in any situation.

This bundle has 27 realistic models of sycamore trees, 6 material presets which will work on all models to control season and leaf cover and 5 scene subset groups of instanced trees which will give you an almost instant group or ground cover of trees and saplings so that you can populate a scene in just a few clicks.
Download links: