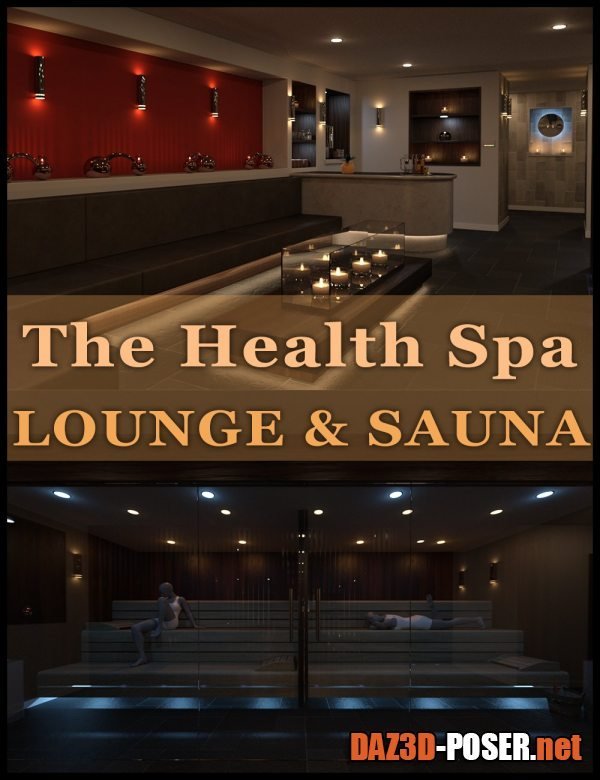 Image: The Health Spa: Lounge and Sauna
Title: Props – The Health Spa: Lounge and Sauna – download for Daz Studio or Poser
Description:
This is the second set in this 'Health Spa' series. It can be used on its own or with the previous released Health Spa Reception scene (see other products below).

This scene is a fully furnished interior lounge, sauna and relaxation environment. It offers a lot of flexibility. Various nodes can be hidden or removed to use the building as a shell for other projects as well.

This Health Spa Lounge and Sauna scene consists of multiple entrances with functional doors at each. The main entrance joins with the Health Spa Reception (I've included an image to show the two sets used together); There is a short passageway to a back area which has two doors that can lead to additional rooms/environments and it is my intention for the future to expand further on this series. The main area consists of a large furnished lounge where one of the corner areas offers basic amenities for refreshments. This scene, however, is not only a lounge; it is partitioned to offer an adjoining rest and relaxation room complete with fixed recliner chairs. Both the Lounge and Relaxation room have visibility through the partitions to a sauna area which is fronted with large clear glass panels and functional glass doors. So all up this is a scene that offers you, the artist, a lot of flexibility to be used in various projects.

Lights have been separated to give you full control and flexible for various illumination possibilities. As with all my products I try to keep a balance between detail and performance; The default Lounge seating 'cushions' have a low polygon count, however, for additional realism I've included high polygon cushions as separate props, which you can easily replace the defaults with as needed (see the props folder for these). I've kept them separate so you can only add the additional overhead when and if needed to create additional details when your characters use the furniture.

There are various props and assets to complement the lounge building structure that can also be used separately on any of your other render projects.
Home Page: _https://www.daz3d.com/the-health-spa-lounge-and-sauna